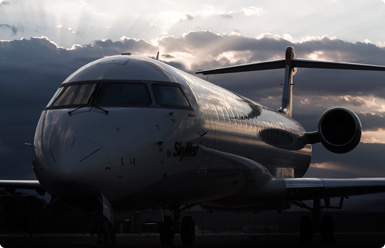 SkyWest is a committed equal opportunity employer and was recognized by the Human Rights Campaign in the 2016 Corporate Equality Index (CEI) as a top employer for workplace equality. We do not hire employees based on identification or supposed identification with any group of people. Instead, it is our goal to base hiring on a prospective employee's character, attitude, skills, work record, training, experience and education. Further, our commitment to diversity encompasses employment of individuals who may be disabled.
SkyWest maintains an Affirmative Action Plan, including active employment of minorities, women, veterans and individuals with disabilities. SkyWest makes positive contributions to the communities we serve, and encourage our employees to do the same. SkyWest internship programs, scholarship programs and our participation in various civic and charitable activities are of paramount importance.

SkyWest is committed to maintaining a working environment of satisfying employment and mutual respect for all of our employees, regardless of race, color, national ancestry, sex, sexual orientation, gender identity, marital status, national origin, religion, medical condition, disability, pregnancy, age or military status. We have specific training plans and programs in place to maintain such an environment.