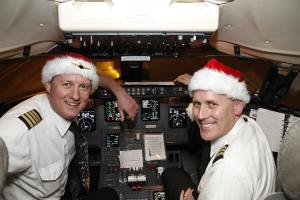 For 13 years, SkyWest Airlines has been a proud part of the Colorado Springs Airport's annual Fantasy Flight to the North Pole.
Together with the Junior League of Colorado Springs (JLCS) and CPCD…giving children a head start, SkyWest has welcomed children and their families to enjoy a night full of magic, joy and laughter.
Those in attendance are able to participate in a number of activities, including ornament making, dinner, playing with the Go Team Therapy Crisis Airport Dogs, and of course, flying on a CRJ700 to the North Pole.
While in the air, the SkyWest crews prepare the children for their magical destination by playing games and singing Christmas carols across the night sky.
Once on the ground, the children are met by Jolly Old Saint Nicholas and Mrs. Claus.
Each child then has the chance to sit on Santa's lap and is presented with a bag full of toys picked specifically for them—the perfect ending to an unforgettable night.
The Fantasy Flight is just one of the many events SkyWest participates in to better the communities we serve.